Day 1 on the route to Compostela : Le Puy – St Privat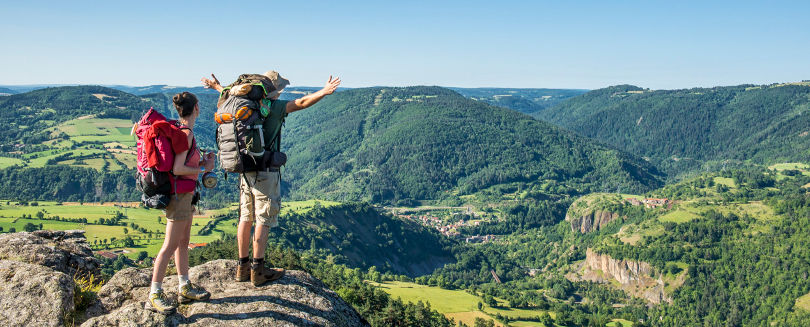 Not to be missed : St Privat d'Allier
Situated in the Velay district, South of Auvergne, dominating the stunning gorges of the Allier river, Saint ­Privat d'Allier is a calm and small picturesque village with a XIII century church. A castel and a priory founded in 1046 in volcanic stones are perched on a rock above the village.
This stage in brief

24 kilometres, 6H walk
Maximale elevation : 1207m

Minimale elevation : 630m
From Le Puy : St Christophe 8,5km >

Montbonnet 7,5km >

St Privat d'Allier 8 km
To see on the way :

St Christophe sur Dolaizon : beautiful church from XIIè century in red volcanic stones

Montbonnet :

St Roch Chapel from Xiè century



Where to sleep in Saint Privat d'Allier ?
Accommodations at Saint Privat

Chambres et Tables d'Hôtes Accueil Randonneurs

Open from mid-march to october

Gîte d'étape La Cabourne

Capacity : 13 chambres de 2 à 6 pers, 53 places

Open all year for groups and from March 15 to November 15 for individuals.

Rooms with or without bathroom. Washing machine and dryer.

Gîte le Kompost'L
Capacity : 8 persons

Open from March to October

Kitchen at disposal, Free wifi

Night
13 €/pers, breakfast 5,50 €, menu 13 €.
Hôtel-restaurant La Vieille Auberge**
Open all year round despite february

Free Wifi, room with bathroom, toilet, TV.

Camping Le Marchat
Tel. 04 71 57 22 13.

Services you can find at Saint Privat d'Allier

Bakery, butchery, cafe, restaurant, nurse, post office, tabac
Compostel'Bus between Le Puy and Saint Privat

Le Puy - In front of the Theatre
Le Puy - SNCF Railway station

Le Puy - Lafayette bus stop (crossing Boulevard St Louis and Rue St Jacques)
La Roche (next to Saint Christophe sur Dolaizon) : at the bus stop

At Montbonnet : in front of the Bar Le Saint Jacques

At St Privat d'Allier : bus stop in front of the Veille Auberge