The Camino de Compostela from Le Puy to Conques
The Route to Santiago de Compostela, a european thousand-year-old heritage !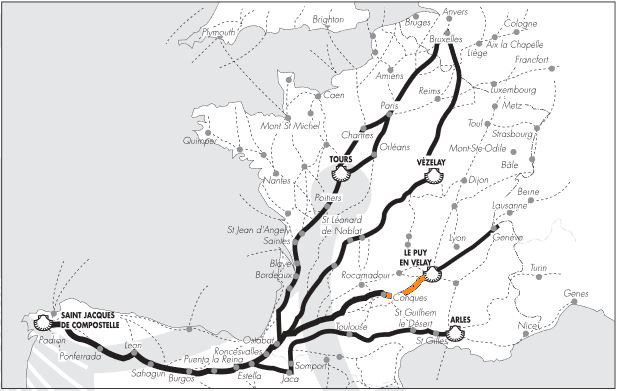 The via Podiensis starting from Le Puy en Velay
The Via Podiensis, is one of the of the four traditional pilgrim routes that crosses France and converge in Spain to continue their way to Santiago de Compostela.
Starting from Le Puy en Velay, the Via Podiensis crosses the Central Massif, the Gascony and arrives at the Basque village of Saint-Jean-Pied-de-Port, the end of the French half of the pilgrimage. This is easily the most popular to Compostela and is the one commonly referred to in English as the Way of Saint James (who translates as Saint Jacques in French and as Santiago in Spanish).
The Via Podiensis get its name from Le Puy-en-Velay city, from where the bishop Godescalc started his pilgrimage to Santiago de Compostela in 950 after JC, with a joyful group of troubadours, jugglers, barons and of course archers to protect them. The bishop was the fist non spanish pilgrim to achieve the pilgrimage to Santiago de Compostela.
The traditional route has been approximately replicated by a marked pathway or Grande Randonnée (GR). The Way of Le Puy is the GR65, and there are three accompanying guide books put out by the French Walking Club, the Fédération Française de la Randonnée Pédestre, commonly known as the FFRP.
The Camino from Le Puy en Velay to Conques : 9 wellknown stages !
In terms of scenery the via Podiensis is also probably the most interesting of the four routes to Santiago de Compostela, as it starts in the high plateau of the Massif Central, with its treeless grasslands and drystone walls of Aubrac, then drops suddenly to follow the valley of the river Lot, where there is a succession of fairy-tale villages.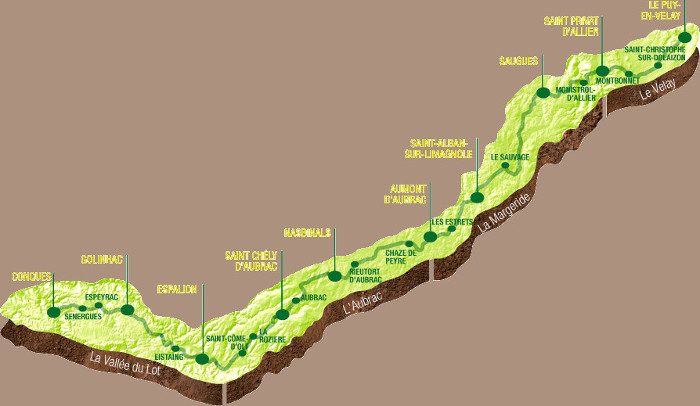 The Compostel'Bus line will allow you to make your own itinerary at your own rythm along the Via Podiensis. The bus stops at each stage of the Camino from Le Puy en Velay to Conques, and even in the middle of each stage if you want to shorten your hike.
Stage n°1 : from le Puy en Velay to St Privat d'Allier
Stage n°2 : From St Privat d'Allier to Saugues
Stage n°3 : From Saugues to St Alban-sur- Limagnole
Stage n°4 : From St Alban sur Limagnole to Aumont-Aubrac
Stage n°5 : From Aumont-Aubrac to Nasbinals
Stage n°6 : From Nasbinals to St Chély d'Aubrac
Stage n°7 : From St Chély d'Aubrac to Espalion
Stage n°8 : From Espalion to Golinhac
Stage n°9 : From Golinhac to Conques