Comfort + bus stops : make your own route to Compostela !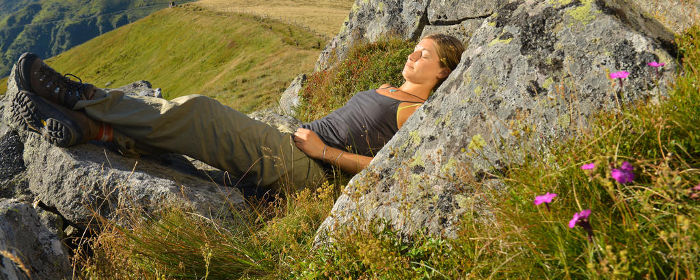 The route to Santiago de Compostela at your own rhythm : get on board on the way !
With friends or family or alone, each one has its own rythm and its own way of thinking a hike along the Camino de Santiago. Don't be affraid of interminable efforts and compulsory stages, you can now make your itinerary and use Compostel'Bus to drop you whereever you want on the way to start your hike or reach your accommodation. A very convenient option to go for the hike along the route to Compostela but at your own rhythm.
Sportive hike or more relax... that's your choice !
Advantages of Comfort + bus stops :
Enjoy the most beautiful part of each stages of the Camino
Shorten your hike and reduce your efforts
Take more time to visit the highlights of the route to Santiago de Compostela
And still find your friends every evening at the accommodation
Comfort + bus stops are :
Stage 1 # Le Puy - Saint Privat d'Allier : Montbonnet
Stage 2 # Saint Privat d'Allier - Saugues : Monistrol d'Allier
Stage 3 # Saugues - Saint Alban : Le Villeret d'Apchier, Chapelle Saint Roch (access Le Sauvage), La Roche (access GR4)
Stage 4 # Saint Alban - Aumont Aubrac : No Comfort + stops
Stage 5 # Aumont Aubrac - Nasbinals : Les 4 chemins
Stage 6 # Nasbinals - Saint Chély d'Aubrac : Aubrac
Stage 7 # Saint Chély d'Aubrac - Espalion : Saint Côme d'Olt
Stage 8 # Espalion - Golinhac : Estaing, Entraygues sur Truyère (outside the camino)
Stage 9 # Golinhac - Conques : Espeyrac